New York Radio testing satcom voice with FedEx 8 – a Boeing 777-F (N843FD) en route from Memphis to Dubai.
Tags: inmarsat
Quick note: 3/16 logs were done with an SDRplay RSPduo that I just picked up. So far so good, and I am really liking the diversity mode feature to help with some of my local RFI issues 🙂
6816.5 USB 0212Z: MARS net with AAR9WF taking check-ins from 9KV, 9CT and 9CM.
9310 USB 0511Z: Continuous playing loop of the "State Anthem of the Russian Federation" by Гимн России. This is said to be a Russian military channel marker or beacon. I logged similar activity the other morning on 3/10 with a repeating loop of "The Red Army Is the Strongest" by Alexandrov Ensemble. At that time, it was believed to be coming from the far east of Russia due to the time of day and strong signal here in California. However, this time around, I feel like the signal could be coming from another part of Russia based on propagation favoring Europe. The station faded quickly after 0530Z, which would make sense propagation-wise due to sunrise in that part of the world.
13215 USB 0114Z: Lajes (barely heard) calling Andrews.
8843 USB 2051Z: Hoku 50 clg San Francisco Radio – told to come up 11282 for radio check.
8843 USB 2205Z: Dreamline 24 clg San Francisco reporting 130 miles east of DINTY and looking for selcal check. Dassault Falcon 900 operated by Dreamline Aviation en route from Van Nuys to Kahului Hawaii.
8843 USB 2217Z: Air Transport 3524 wkg San Francisco Radio with position report FICKY at 2213, FL320, estimates FOOTS at 2230 and FLITY next. Amazon Prime Air Boeing 767-300 en route from San Bernardino to Honolulu.
10460 USB 1404Z: Unid OM in Russian language talking to unheard station.
11309 USB 1410Z: Makassar Radio attempting comms with Philippine 209 for flight info – stations have trouble understanding each other as signal was quite muffled. Philippine 209 gives a position report for AMN at 1410Z, FL370, estimates BUTPA at 1449 and ADKUL next. Airbus A330 en route from Manila to Melbourne.
11309 USB 1418Z: Makassar Radio attempting to contact Qantas 20 and eventually is heard asking Philippine 209 to attempt relay contact with Qantas 20 to obtain their estimate for AMBON.
11309 USB 1420Z: Makassar Radio calling Qantas 128 for radio check and requesting estimate for TIRAM. Qantas 128 was barely audible. Estimates position TIRAN 1434 and TOREX at 1512. Asked to report again over TIRAM and maintain FL350 and remain on 11309 for comms. Airbus A330 en route from Hong Kong to Sydney.
8918 USB 0323Z: JetBlue 2030 calling New York Radio for selcal check on GHMQ. JetBlue 275 and JetBlue 2404 also in comms with New York Radio with position reports. A handful of Airbus A320s going between the northeastern USA and Puerto Rico.
11282 USB 0000Z: VH-IPG wkg San Francisco with position report 33-15N 128-10W at FL110. This aircraft is a Cirrus SR22 en-route from Honolulu to Santa Maria CA.
11494 USB 0114Z: TSC calling T16 in ALE followed by USB voice comms with 16 Hotel passing traffic to unknown station and position 12-44N 064-33W (area west of St Vincent and north of Venezuela). Possibly tracking some type of TOI on radar and mentioned it may have turned towards the south on a 193 heading. Signals were quite weak here.
5857.5 USB 1351Z: HLL2 Seoul-South Korea meteorological radio from the Korea Meteorological Administration (KMA) with weather and maritime information in Chinese.
9310 USB 1405Z: Russian military beacon with a continuous loop of "The Red Army Is the Strongest" by Alexandrov Ensemble. Most likely originating from eastern Russia based on signal strength and time of day received.
11282 USB 2040Z: Elvis 46 checking in with San Francisco Radio reporting at FL340, CPDLC and requesting selcal check on EQLS.
11282 USB 2123Z: Mash 72 requesting radio check from San Francisco Radio. Requested a selcal check on JSKM.
11282 USB 2136Z: Teal 71 wkg San Francisco with position report 30-57N 121-57W at 2134, FL300, estimates 29N 126W at 2229 and 26-51N 129-48W next.
11282 USB 2230Z: Reach 7041 with San Francisco for radio check.
11282 USB 2357Z: Otis 82 calling San Francisco for radio check and requesting their oceanic clearance.
New York Radio in comms with Turkish 801 on Inmarsat voice about attempting comms on HF and their request for weather deviation. New York gave their HF freqs of 17946 primary, 13306 for secondary. Turkish 801 was en-route from Istanbul to Bogota Colombia. Aircraft is a Boeing 777-300 registration TC-JJN.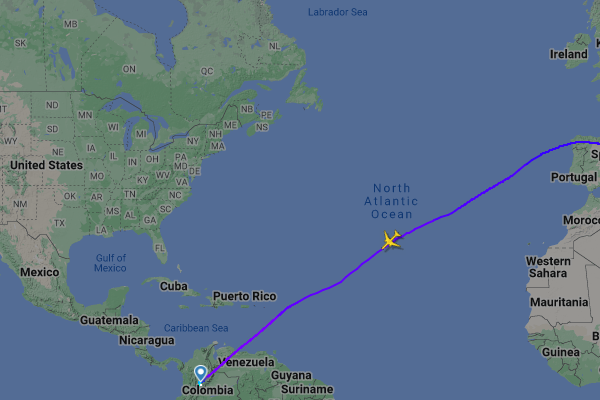 Tags: inmarsat